The UdK Berlin has committed itself to creating equal opportunities for all its members, regardless of gender, age, skin colour, appearance, social and cultural background, sexual identity, religious affiliation, nationality, psychological and physical constitution. This goal has not yet been achieved.
Because of this, on this page there is the possibility to report experiences of discrimination anonymously. The reports will show us what kind of discrimination occurs at the UdK Berlin, including for example disadvantaging, stereotyping, degrading or excluding. In an upcoming diversity policy, we are developing measures to make the UdK Berlin an equitable, diverse and inclusive place that engages with differences considerately and respectfully. Your experience reports will help us to identify the problem areas and pursuit the necessary changes.
Since all experiences shared here are made anonymously, we are unfortunately unable to respond to them personally. However, we are working on improving the support services at the UdK Berlin, including making them more diverse. Individual counselling is currently provided by the Women's Representative (Frauenbeauftragte) and the members of the Confidence Council (Vertrauensrat), which offer protection in cases of (sexualized) discrimination and violence; as well as the AStA Department for Intercultural and Anti-Discrimination and the Students' Initiative I.D.A. These instances can be contacted at any time and ensure confidentiality. Beyond these, there are other contact points within and outside the UdK.
Contact Points for Discrimination at UdK Berlin
What does discrimination mean?
Discrimination means the unequal, disadvantageous and excluding treatment of individuals or groups, on the basis of actual or ascribed group-specific characteristics without objective reason. Discrimination can be carried out by both individual persons (individual discrimination) as well as structural conditions (institutional discrimination).
I have experienced discrimination and am looking for advice and support. Who can I turn to?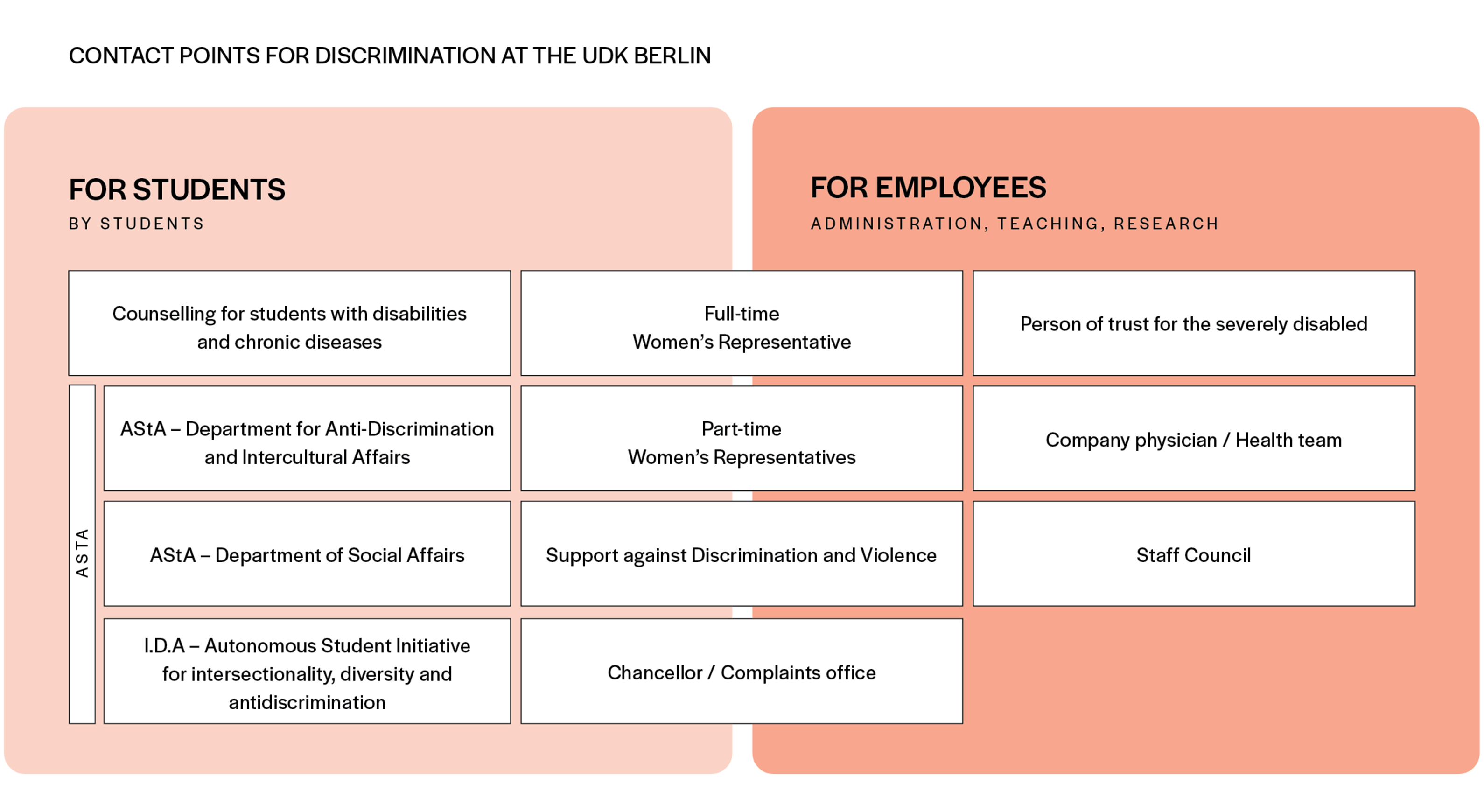 For Students and Employees
Counselling for students with disabilities and chronic diseases
Barrier-free studies
Person of trust for the severely disabled
Barrier-free working
Chancellor
Complaints office according to § 13 of the General Equal Treatment Act
Support against Discrimination and Violence
Complaints office in accordance with the directive on protection against (sexualized) discrimination, harassment and violence
Full-time women's representative
Sexualized discrimination, harassment and violence
Part-time women's representatives of the faculties and institutes
Sexualized discrimination, harassment and violence
International Office
International students/employees, students/employees abroad
Deans of Studies
Program related issues
By Students for Students
AStA - Department of Social Affairs
Social applications, housing allowance, BAföG, studying with child
AStA - Department for Anti-Discrimination and Intercultural Affairs
International students, equal opportunities, discrimination
AStA - I.D.A.
Intersectionality, Diversity, Anti-discrimination
For Employees (administration, teaching, research)
Staff Council
Representation of interests of the employees
Management of the personnel department
Personnel administration and development
Company physician
Health protection
I would like to file a complaint. How do I proceed?
Simple Complaint
(Confidential recording of the incident by the Board of Trustees)
Documentation of the incident by the Board of Trustees (confidential)
Information on further support
Advice on the formal complaints procedure
Formal Complaint Procedure
(Informing the complaints office, possible initiation of sanctions)
The Chancellor takes up the complaint
Written statement of the defendant within 14 working days
Conversation of the chancellor with the defendant
The university management decides on measures and sanctions