Contact Points for Discrimination at UdK Berlin
What does discrimination mean?
Discrimination means the unequal, disadvantageous and excluding treatment of individuals or groups, on the basis of actual or ascribed group-specific characteristics without objective reason. Discrimination can be carried out by both individual persons (individual discrimination) as well as structural conditions (institutional discrimination).
I have experienced discrimination and am looking for advice and support. Who can I turn to?
The ASta-Departments are currently vacant.
For Students and Employees
Chancellor
Complaints office according to § 13 of the General Equal Treatment Act
Full-time Women's and Gender Equity Representative
Sexualized discrimination, harassment and violence
Part-time Women's and Gender Equity Rs of the Faculties and Institutes
Sexualized discrimination, harassment and violence
Diversity Officer
Anti-Racism and Empowerment
Support against Discrimination and Violence
Complaints office in accordance with the directive on protection against (sexualized) discrimination, harassment and violence
International Office
International students/employees, students/employees abroad
Deans of Studies
Program related issues
For Students
Counselling for students with disabilities and chronic diseases
Barrier-free studies
AStA – Department for Anti-Discrimination
International students, equal opportunities, discrimination
AStA – Department for Diversity and Social Justice
International students, Structural improvements in the university
AStA – Department of Social and Cultural Affairs
Social applications, housing allowance, BAföG, studying with child
AStA – I.D.A.
Intersectionality, Diversity, Anti-discrimination
For Employees
Person of trust for the severely disabled
Barrier-free working
University Physician / Health Team
Health protection
Staff Council
Representation of interests of the employees
Management of the personnel department
Personnel administration and development
I would like to file a complaint. How do I proceed?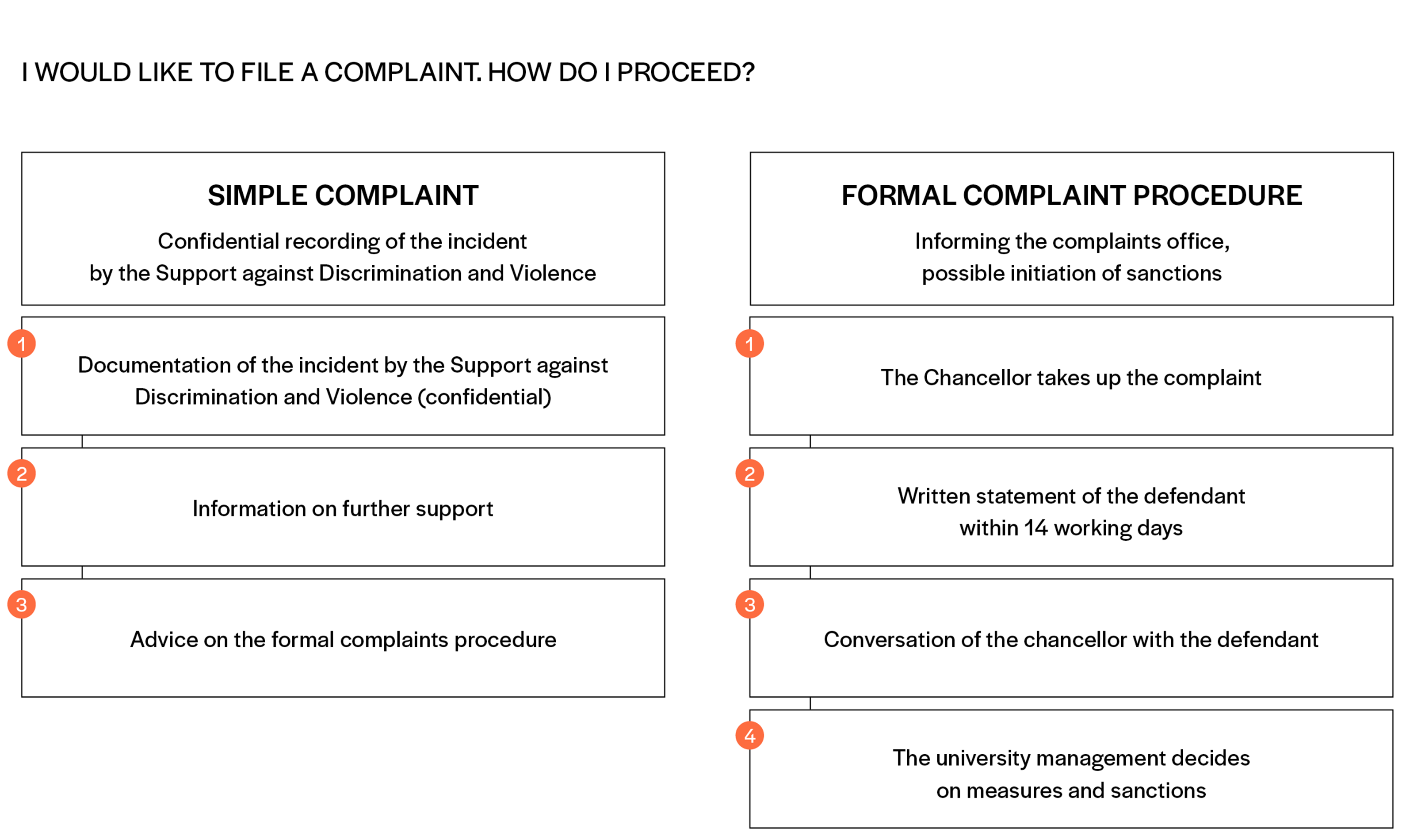 Simple Complaint
(Confidential recording of the incident by the Board of Trustees)
Documentation of the incident by the Board of Trustees (confidential)
Information on further support
Advice on the formal complaints procedure
Formal Complaint Procedure
(Informing the complaints office, possible initiation of sanctions)
The Chancellor takes up the complaint
Written statement of the defendant within 14 working days
Conversation of the chancellor with the defendant
The university management decides on measures and sanctions